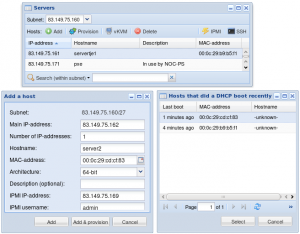 NOC-PS server provisioning system
NOC-PS is a virtual appliance that can provision both physical and virtual servers.
Using PXE technology, the server boots off the network, downloads the necessary files, and performs an automated installation of the Operating System.
Features
Fully automated installations
Operating systems supported:
AlmaLinux
Centos
Debian
FreeBSD
OpenSuse
Ubuntu
Windows Server 2008 (R2)
Windows Server 2012
Windows Server 2016
Windows Server 2019
Windows Server 2022
Power management
Servers can be automatically rebooted through the following means:
IPMI/BMC/iLO/DRAC management card
Redfish
Intel AMT
APC remote power switch
Ipoman remote power switch
Koukaam NetIO remote power switch
Racktivity remote power switch
Telejet webresetter (via Digi One SP)
Data traffic graphs
Simple data traffic graphs can be generated, provided a managed ethernet switch supporting SNMP is used.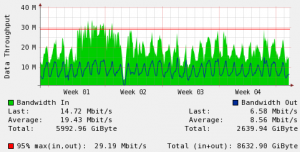 Rescue systems
The following rescue and utility systems can be started, for things like resetting a forgotten root password, and repairing broken systems:
Billing system integration
Modules available for the following billing systems:
Hostbill
Blesta
Your own portal using our PHP/XMLRPC API
Ready for the cloud
Support for provisioning the following type of servers:
Dedicated servers
VMware vSphere virtual machines
Citrix Xenserver (HVM) virtual machines
Proxmox VE (KVM) virtual machines